Interact with your Dashboard
Create a Dashboard​
On Reporting page, you can create a new dashboard by clicking on the (+) next to a folder:
Or you can use the Create menu when you are browsing dashboards
Dashboard Metadata​
You can find useful information about your dashboard by clicking on More Info, which includes:
Dashboard description
Created time & person
Last edited time & person
Frequent viewers - Top 5 users who view the dashboard most frequently in last 30 days (excluding public users)
Views - The number of dashboard views in last 30 days
Favorites
Admins can hide the metadata in case of security risks. Find the option in Organization Settings > General Settings.
Add Dashboard Filters​
The basic steps to add a new dashboard filter are:
In the dashboard, click on Add filter icon on the top right corner. The Add filter view will appear.
Enter the name of your filter, and choose from the five types of filters (Field, Date, Text, Number, True/False).
Enter a default value for your filter if necessary.
Toggle on the widgets that you want to control, and map the filter to a widget's field Notes:
You can only map the filter to fields of the same data type.
You can map the filter to any field available in the widget's dataset, not just the ones you used to create the visualization.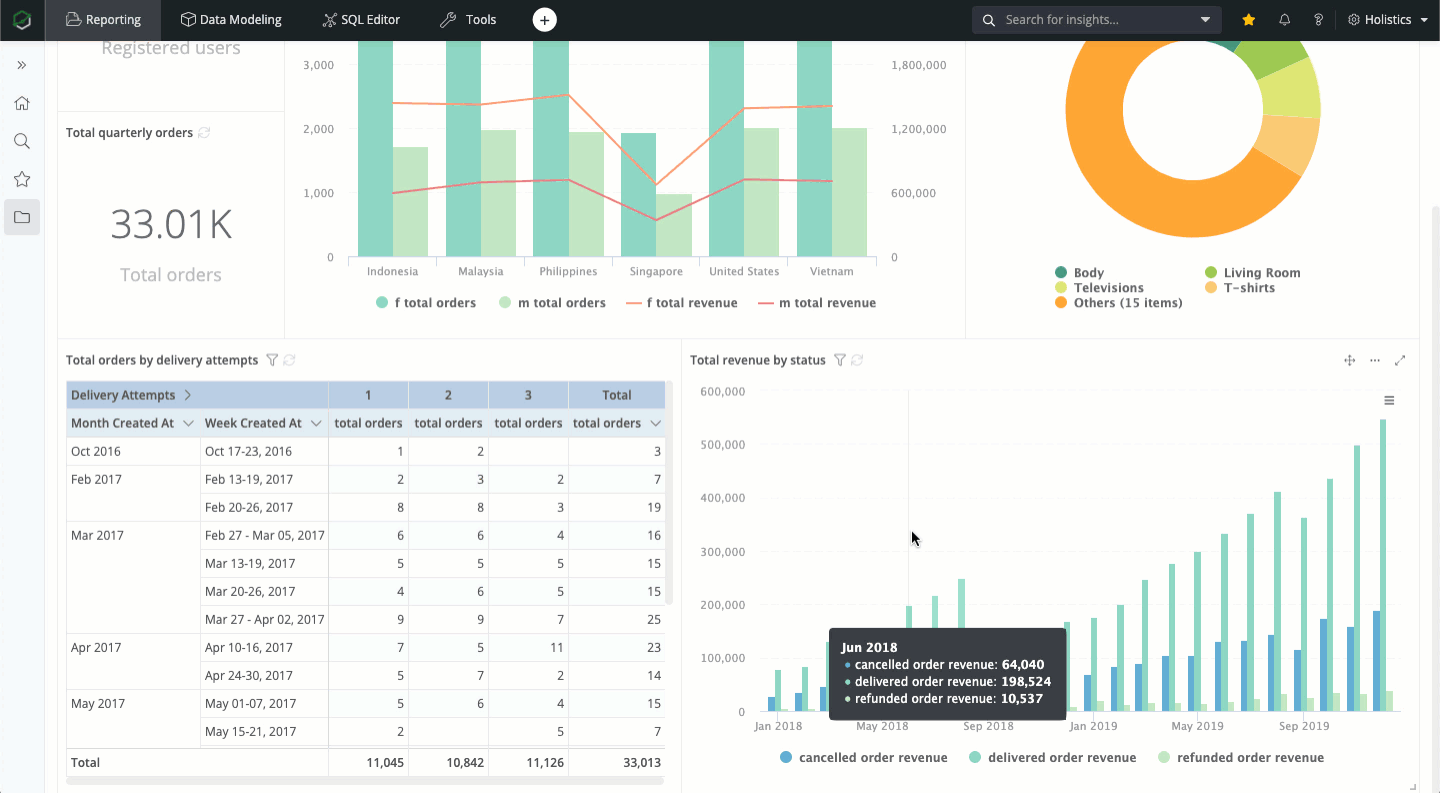 Export your Dashboard​
You can either download your dashboard as a static PNG/PDF snapshot, or set a schedule to deliver the snapshot regularly to you. Please refer to the Data Export for more details about this feature.
Share your Dashboard​
You can give users in your organization access to a dashboard, or share it with an external party with a shareable link. For more details, please refer to the Permission System and Shareable Links documentation pages.
Other Dashboard options​
If you click on the ... (More) symbol, you can see there are a few more things you can do with your dashboard:
Dashboard Preferences: This section contains all important configurations of your dashboard, including the ones we have mentioned above.
Embedded Analytics: Embed Holistics dashboard in your own application and make it available to your own customers. For more information, please refer to the Embedded Analytics documentation page.
Lock: If you are an Admin, you can lock important dashboards to prevent other Analysts from making accidental changes.
Duplicate: Quickly replicate your whole dashboard to a new one.
Move to: Move your dashboard to another folder. Note that:

If the dashboard is in the public workspace, it can only be moved within the public workspace.
If the dashboard is in your private workspace, it can be moved out to the public workspace.

Delete: Permanently remove your dashboard from the workspace. This action is irreversible.